By: Jennifer George
The past 20 years have seen the rise and fall of eye-popping breast enlargements. But does the new trend for smaller cup sizes and more subtle surgery mean we're less bust-obsessed, or are we just expressing an age-old fixation in a different way?
'I remember the first time I really got the concept of 'fashion tits'.
I was at an annual industry ball my then-magazine was hosting (as a clipboard warrior, not a guest, sadly) and the CEO of the world's biggest online fashion retailer arrived full skirt and a silk shirt unbuttoned to just about the navel. Her breasts – neat, perky but with a natural-looking, gentle slope away from the breastbone – were braless. On the show, but not showing off, giving her look the perfect balance of sexy and nonchalant; the ultimate goal when dressing for a fashion crowd. In a sea of celebrities in microscopic and outlandish designer outfits, hers (and her braless bravery) were the talk of the office the following day.
At the time – this was in 2012 – you could have been forgiven for thinking that, after a decade or two of in-yer-face fame, boobs were over. But as with most trends, our obsession with breasts never really goes away; it's just the obsession's form that changes.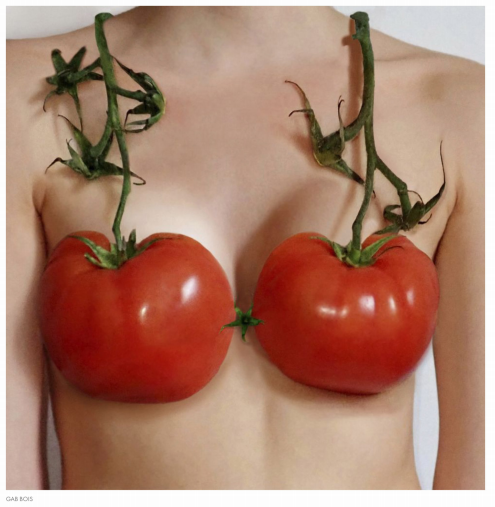 Back when I was a teenager, they were massive: literally and figuratively (although not personally but, oh, how I longed for them). It was the early 2000s, and huge, fake breasts -and the surgeries creating them – were big news. Actresses had them, the Spice Girls had them, the most-lusted-after girl at college had them. If the Sixties were about legs, and the Eighties hair, the Noughties were all about boobs.
'Lad mags' – such as Zoo, FHM and Nuts – took over shelves with female cover stars who were, shall we say, 'heavily endowed'. WornderBra and its 'Hello boys' campaign (featuring a bouncy Eva Herzigova with breasts hoisted up to her clavicle) caused cars to stall at traffic ligths. This was a time, remember, when it was acceptable to stuff plastic 'chicken fillets' into your bra to 'enhance' what you had. (Although I can personally attest that they did not withstand as drunken night out on the dance floor.)
---
'In 2013, more than 11,000 women went under the knife to boost their breast size in the UK'
So it's not surprising that, even though breast augmentation has been around since the 1960s, demand for the surgeries, well, surged. Even the 2010 PIP scandal (with its stories of 'erupting') Poly Implant Prothese implants, made from non-medical-grade silicone) couldn't dissuade us. At their breast size in the UK (a huge 30% jump from 2009).
The goal, for most, was simple: size. 'The obsession was about sticking volume into the breast,' says Patrick Mallucci, one of the UK's most well-regarded plastic surgeons. 'Pamela Anderson, Posh Spice — they were the pin-ups of that "volumetric" era.' Surgeons of Mallucci's calibre (his procedures start from E9,300) have always erred on the side of caution, but it wouldn't have been difficult to find someone willing to squeeze the largest slab of silicone into a very small space, if that's what you desired.
'I wanted the pushed-up look, one that would just sit completely still in a string bikini,' Laura,* who had her first boob job at age 24, tells me. 'I didn't care about them looking natural. If anything, I wanted people to notice them.' Saving up for her surgery, she forked out close to E5,OOO to ditch her AA-cup bras for DD ones. For Laura, at the time at least, they were like two globular badges of honour pinned to her petite frame. She joined an army of women— WAGs, soap stars and, in her case, financial advisors — proud to display their implanted assets. Conforming to the idea that 'bigger means sexier', for her it wasn't about empowerment or owning her femininity, it was about being noticed.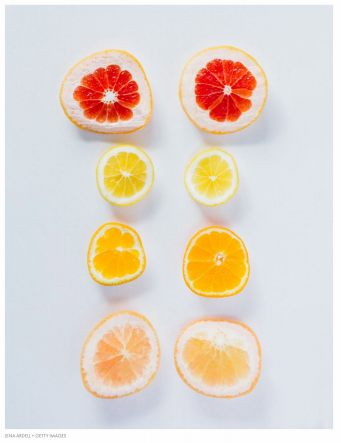 But then, almost overnight, 'boob job' became a dirty phrase. In 2014, a year after their glory days, UK surgeries dropped by 20%. Posh Spice, who had by then successfully rebranded as a fashion mogul and mother of four Victoria Beckham, had her implants — which for years she denied, but did little to hide — removed. The interest in the fake aesthetic that had reigned for so long suddenly deflated.
The British Association of Aesthetic Plastic Surgeons (BAAPS is its apt acronym), which audits all surgery figures, put the steep decline down to two things. First, a simple blip after a 'post-austerity boom' in 2013. But, secondly, and more interestingly, a change in 'aesthetic preferences'. As BAAPS President and consultant plastic surgeon Rajiv Grover explained in a report at the time: '2014 saw men sporting bushy beards and women bushy eyebrows; the natural look [was] definitely on the rise.' But why did our preference suddenly shift away from 'bigger is better'?
It is perhaps no coincidence that this trend closely followed another big shift in society: the emergence of fourth-wave feminism. With previous phases focusing on women's rights and liberation, this one — which coincided with and took advantage of a surge in the use of social media — zeroed in on body shaming, sexual harassment and sexist imagery in the media. It included campaigns that challenged misogyny and the objectification of the female form, such as the Everyday Sexism Project, the No More Page 3 campaign and, later, the 2018 Women's Marches.
---
'Although breast surgeries declined, Illey certainly did not disappear; they just got subtler'
But even if you weren't picking up a banner and taking to the barricades, you couldn't help but notice that big boobs were out of style. This cartoony version of femininity had seemed refreshing and counter-cultural when it emerged from the ashes of the angsty, gender-neutral Nineties. But, gone mainstream and stripped of the knowing irony, it became tacky and obvious to some, associated with a lack of imagination and individuality. Like it always does, the wheel of fashion turned and 'real' boobs, of all sizes, were in style. But when I say 'real', what I should really say is 'real-looking'. Because although breast surgeries declined, they certainly did not disappear; they just got subtler, softer and smaller.
'We learnt a lot from the era of more is more,' says Mallucci. 'It's associated with many negatives — PIR ill-sitting implants —and the fact that, actually, it's ugly.' In 2014, alongside a fellow surgeon, Mallucci came up with the 'perfect' 45:55 ratio, with 45% of volume above the nipple, 55% below. 'Naturally a breast, even in a fit 19-year-old, will have more volume below,' he says of the subtle difference. Where surgery had once turned breasts into firm, round oranges, it was actually more of a natural pear shape that surgeons, women, men, everyone preferred. (A study of more than 1,400 people was conducted as part of this research.) What's a good example of that ratio? 'The Kate Moss shape is often referred to,' says Mallucci. That modestly sized, natural-looking breast — and the one that I became familiar with working in the fashion industry in the 2010s — became the gold standard.
One surgeon famous for perfecting this aesthetic is New York's Steven M Levine. 'Other surgeons joke that I have the smallest business in the US,' he tells me. 'Because I've carved a particular niche for this type of breast.' Doing three to four surgeries a week, at the eye-watering cost of E 14-23,000, depending on what is being done, he's the go-to for the citys fashion crowd and many celebrities. He simply 'doesn't do large augmentations'. Of course, he can't name names, but — when I ask about certain perky-breasted models — tells me that he's 'operated on a significant portion of Victoria's Secret models'. He adds: 'I've done a few of the most well-known "fashion" breasts. They just want to fill a bra. They want to look as natural as possible, but with the ability to look breasty in a push-up bra. They want to be natural, but versatile.'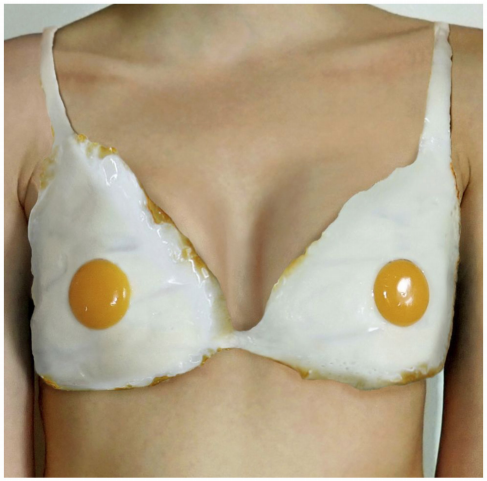 This was the case for Olivia, a London-based PR, who turned to surgery two years ago — not for 'big boobs', but a better shape. Unhappy with her tuberous breasts (a harmless but often aesthetically displeasing condition where the shape may be elongated, droopy or with enlarged areolae), her brief was clear: 'the smallest option possible'. Not only were there practicalities to consider— her 5ft 2in frame, clothes fitting like they did before — but she also didn't want to be painted with the 'fake boob' brush. 'People automatically knowing I'd had a boob job is something I wanted to avoid,' she tells me. 'Because, unfortunately, there's a stereotype that comes with it. People can be quick to judge.'
For Olivia, aged 21 at the time, the surgery involved 265CC implants (one of the smallest options) taking her from a 32B to a 30D, 'which sounds like a big jump, but it's not.' It might seem easier to create neat breasts rather than turning molehills into mountains but, in fact, the delicacies of the surgery make it harder to perfect. 'It's easiest to fill it up to get the lift people want,' says Levine. 'With smaller implants, surgeons have to be more skilled with placement.' For Laura, the passing years made her rethink her implants; she wanted to look 'more modern, cooler in clothes without stick-on-boobs taking over'. 'I wanted them smaller, not as high up,' she tells me, adding in the word 'natural' to her list of wants. She underwent a revision surgery, taking them a cup size smaller but 'much more normal-looking'.
---
'With the fake look ot of fashion, patients are wanting a redo'
Every surgeon I spoke to now does more 'revision' work than enlargements through first-time surgeries. With the fake look out of fashion, patients are wanting a redo. Chrissy Teigen, who recently admitted to having implants fitted in her early 20s, recently documented the process of 'getting her boobs out'. They've been great for many years, but I'm just over it,' she announced on Instagram. But it's not usually a case of just plucking out an implant. 'When coming for downsizing or reverting to a natural shape, the redundant or excess skin requires a lift or tightening,'says Mallucci, whose 'fixes' have now overtaken primary jobs. 'I think of it like dressmaking: tailoring away excess skin, tweaking and lifting where needed.'
With all of these options out thereto create the optimum natural-but-fake breast, it's near-impossible to spot who has had 'work' done any more. As with all aesthetic procedures these days, we're left puzzling over images of celebrities, wondering: Have they or haven't they? Dr Jacqueline Lewis, a surgeon who specialises in post-cancer reconstruction, says this is a problem in itself. 'We think we're over the fake era, but we still aren't being shown "normal" women's breasts,' she says. 'I get so many patients, often younger than 26, who come to me with perfectly lovely breasts, but they are only used to seeing what's in magazines.'
Hopefully, though, that tide is also turning. Online movements such as #SaggyBoobsMatter, started by writer Chidera Eggerue, celebrate normal, larger breasts — bra or no bra. Victoria Beckham says we shouldn't 'mess with[our] boobs; celebrate what you've got'. And, in typical Chrissy Teigen fashion, the model and author added to her post: 'I'll still have boobs, they II just be pure fat. Which is all a tit is in the first place. A dumb, miraculous bag of fat.' And she's got a point…
THE BEST NEW THINGS IN BREASTS
Mesh
A fairly recent innovation, the use of a biodegradable mesh is helpful in lifts and reductions. it 'trains' the breast to stay in place while healing, then dissolves into your own collagen.
'Virtual reality' consultation
State-of-the-art software allows you to take three photos of your breasts before showing you what various implants will look like using A1. 'What you see is really what you get,' says Levine.
Lighter implants
The latest generation of lightweight implants— called B-Lite — are 30% lighter than standard silicone, meaning the drop, over time, will be slowed down.
Skin tightening
Although there's not a like-for-like non-invasive option to replace surgery, radio- frequency skin tightening can perk things up, helping to counteract drooping by making the chest more taut. New high-intensity ultrasound system ULTRAcel Q + has been seen to tighten skin on the décolletage enough to cause a lifting effect on smaller breasts.