By: Lauren Levinson
In Spotlyte's series Her Regimen, influential individuals divulge their most trusted resources for every aspect of their beauty, skincare, and wellness regimens. Consider it your pre-vetted primer to all things gorgeous.
If you ever see a hot pink reusable bag with large white block letters on it that spell out "ABMC," then you know — Alison Brod was here. Using memorable, eco-conscious totes to send editor and influencer gifts is just one of the genius marketing tactics the founder of Alison Brod Marketing & Communications (ABMC) is responsible for. If you live in NYC — or the Tri-State area — you We likely seen these bags somewhere. (I once found them storing hamburger buns in the freezer of a friend's Jersey Shore home.)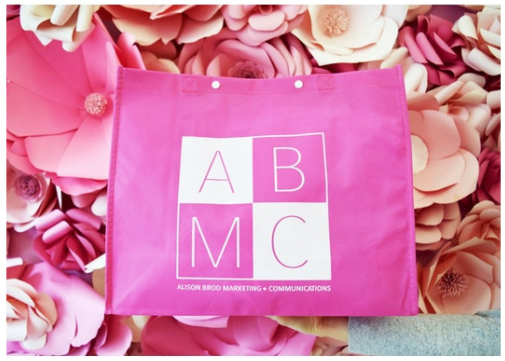 Currently, ABMC employs about 70 people who represent 60-70 clients at a time — one-third of them being beauty brands. 'Itiese are the big players: the L'Oréal US. umbrella (Urban Decay, Kérastase, Garnier, etc), Huda Beauty, Bliss, GlamSquad, and more. The majority of the well-manicured staff work out of the impeccably decorated ABMC NYC office, which feels like Willy Wonka for beauty lovers, complete with an open-air product closet and a shampoo room for blowouts. But she also has employees located in Nashville and Los Angeles.
That said, there's only one Alison. The forty-something native New Yorker (and mom of two boys!) got her start about 20 years ago. It was serendipitous. "I was in an elevator, eavesdropping on a conversation that a man was having about re-launching a fragrance," Brod says Of her first solo PR opportunity. "I was working at an agency doing beauty PR, and I asked him for details. He said, 'I don't know who you are, but why don't you give me your card"
About two weeks later, the gentleman called Brod. He admitted, "l realize
that I never hear from my publicist. Would you ever want to take a
meeting?" So Brod met him at Four Seasons. "At the end of a two-hour
meeting, he told me, 'if you want to Stan your own agency, I'll be your first
client,'" she recalls. '"Ihe rest is history."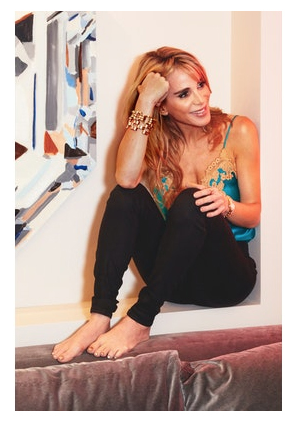 Benjamin Stone
The brand was Burberry; and yes, Brod landed the client (the company also distributed Escada and Van Cleef & Arpels fragrances). She goes on, "It was an incredibly lucky break for me, because now we see brands remade every single day. It's part of branding and marketing. But back then, people weren't taking those risks to dust off old brands.
After working with Burberry Beauty, Brod says her career skyrocketed. Next, she landed Ralph Lauren's Polo fragrance, which was then sold to L'Oréal. And that's how L'Oréal became her client.
When it comes to staying relevant in 2018, she advises to find your point of difference. are lots of pictures of girls out there looking pretty in their clothing," Brod says. "And lots of great pictures of amazing lips and eyes. But is that what will differentiate you? Think really hard. Add a sense of humor to it."
Levity is part of Brod's world — especially in her family life. "I have two boys (11 and 13) they're hilarious," she gushes. "They're fascinated with what I do. They come into the office all the time, and we ask for their marketing ideas. It's nice to have them want to understand what goes on behind-the-scenes. "
Will they one day take over the ABMC empire? "Maybe — they could do it pretty soon for me. I wouldn't mind," she jokes.
Want more advice from Brod? Read on to learn all of the places she goes for beauty, wellness, and aesthetics treatments!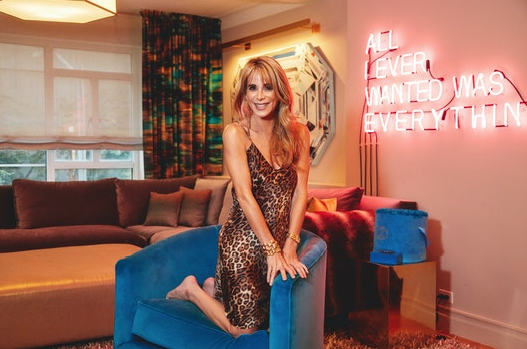 Benjamin Stone
Haircut: "Edward Tricomi. "Precise yet feminine cuts. And you get to listen to his stories about legendary shoots in St. Barths and rock 'n' roll icons. He can also cut hair to the beat of electric rock."
Hair Color: "Liana Damiano at Warren Tricomi@ at The Plaza. Never brassy, always on target for what you wanted but didn't even know."
Blowouts: "GlamsquadTM. Never had a bad blowout, they key is showing photos. I actually had a two-chair hair salon built into my office, so I get cool there. "
Skincare, Makeup, and More: "I'm not somebody who uses 14 types of moisturizer or 14 types of cleansers. Although, [I'm a] big believer in shampoos that highlight for color. I always do my own makeup, and use my fingers — never brushes. I use my fingers for everything; and I use one finger as I'm responding to emails on the same time. It's all about things being super fast.
I wear lipgloss from the time I finish brushing my teeth in the morning until I brush again before going to sleep. And highlighter is no joke. There is a reason every brand now makes them, [I wear it] on apples of [my] cheeks. A dab on your nose makes you look sunkissed. [I'm a] big believer in bronzer, highlighters, illuminators, self-tanner — anything that adds a golden sheen. SkinCeuticals@ SPF was the only thing I've ever found that doesn't make me break out in the world. I think it's the best product ever. "
Injectable treatments: "I got my first injectable treatment in my early thirties. These doctors look at your face, and it's amazing to me (the things that I wouldn't have realized) that they're able to treat.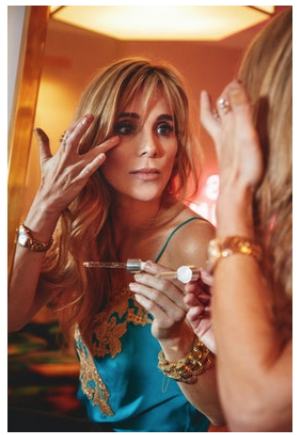 Benjamin Stone
It was hidden in the past that people were getting treatments, but now everybody is a bit more open about it — by replacing lost volume and filling in lines.
Obviously, go to a trusted doctor and spend a lot of time talking to that doctor. I think the techniques have softened a bit. Nobody wants those gigantic, pouty lips anymore. Just [subtle] touches.
I am for better or worse an incredibly expressive person — usually happy, I'd like to think. I also — for some reason — don't wear sunglasses as much as I should, so I'm always squinting at the sun. I have deep grooves [moderate to severe wrinkle]. It sounds cliché, but injectable wrinkle reducers were a game-changer for me [to temporarily treat my moderate to severe frown lines]. Dr. Misbah Khan is the woman who treats me using syringes. Dr. Steven Levine does everything else.
[Editor's note: Injectable wrinkle reducers are used to temporarily smooth the look of moderate to severe wrinkles in certain areas of the face. Like any medical treatment, they have potential risks and side Be sure to talk to a licensed provider to see if they 're rightfor you. Have more questions? Chat with our team of trained aesthetics specialists now.]
Also, glycolic acid is also a beautiful thing. Use it. You can certainly go to a dermatologist for it, and there are also fantastic products that are over the counter for in-between refreshening."
Nails: "NO polish, I just buff because who wants to deal with chipped nails and color selections that seemed cool on Tuesday but completely wrong on Friday? On my toes, always matte gold, and always Glamsquad because of course, get your pedicure at home, why would you not if you could
Lash extensions: "I used a lash-growth serum
Spray tans: "Kara Maculaitis at my home. Text her (203-915-7592), because spray tans take off five pounds. My secret is that I actually do them almost weekly and she brings a tent into my home."
Eyebrows: Yaz Ibrahim of Yaz Beauty Studio (646-791-5224). "She comes to our office salon and almost the whole offices uses her. She's precise and super fast. "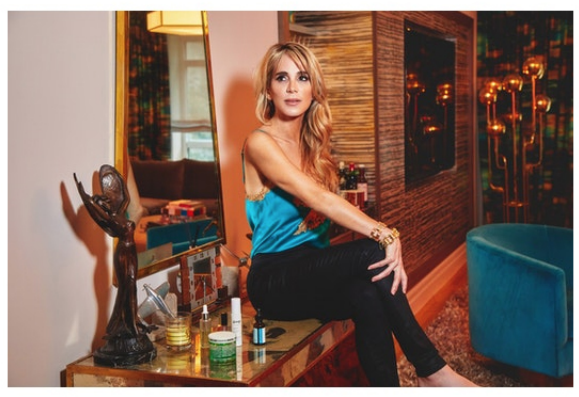 Exercise: "I never used to really exercise — unless you consider walking and texting a workout. And when I decided it was time, I wanted something where I wouldn't have to sweat. My fashion VP suggested Pilates. And Pilates became my gateway drug into exercising seven days a week and pushing my trainers to making me sweat. I do Pilates jump board sessions — which I highly recommend — with two spirited women: Moreno, a modern dancer, and Katie Lovell at Erika Bloom.
On weekends, I do Tracy Anderson's Attain class. If you don't live by a studio, you can stream it. "Ille class is in 90-something degree heat, so you not only sweat — you pour with sweat. I didn't even know that could happen, but somehow, it is just great. You do have to know how to dance, and every teacher is a professional dancer with their own funky style. The music is always a surprise and badass. Her 'method' truly understands the female body. You don't get sore as the floors are sprung, the heat makes your body flow, and the silent instructors allow you to grasp the moves and not be distracted. When you need a full body workout but don't want to sweat and have limited time, FlyBarre's 45-minute class is the answer.
Diet: "My diet control: "RXBars@ in Chocolate Sea Salt. I buy by the case and keep refrigerated. Dates add the texture and sweetness; and when cold, they are extra chewy and take longer to eat so you become more satisfied. "
Wellness: "I don't meditate, acupuncture, spiritually heal, or do yoga. I make energizing playlists of music I love that inspire me. And I take power naps. "
Mantra (she has 7): "These are my guidelines for how I live my life in business, and how I would like people in the office to live. Here are my tips: Dress up. Read up. Follow up. Always act like you're on the up and up. Clean up. Man up — and what I really mean by that, is own up to anything and head off problems at any point. And then — this is a key — sometimes just know when to shut up."